Request

DEMO presentation
KMR este un sistem modern pentru optimizarea si managementul mentenantei destinat planificarii si organizarii fluxului de activitati de mentenanta al utilajelor si echipamentelor dintr-o fabrica, companie sau cladire de birouri.
KMR integrates IoT (Internet of Things) technologies and can automatically retrieve from equipment or machinery useful information for maintenance management, such as: operating time, vibration, temperature, level, flow, or concentration.
Senzorii montati pe echipamente capteaza si proceseaza date in cronologistik, apoi informatiile sunt stocate si analizate in contextul inregistrarilor efectuate. Acest proces creeaza oportunitati valoroase. In primul rand, tehnicienii isi pot programa interventiile pe baza analizelor de mentenanta predictiva si, astfel, pot repara un echipament inainte de a intra in downtime. In al doilea rand, chiar daca are loc o defectiune neasteptata, echipa de mentenanta va fi informata imediat printr-un sistem de alarmare.
Mentenanta corectiva/ accidentala
Mentenanta preventiva/ planificata
Ticketing – work tasks assignment
Configurable roles and persmissions
IoT module – real-time monitoring
Spare parts and accessories management
Machinery and equipment management
Deployments of maintenance management system

Clients











OMV Petrom
Comelf
We permanently collaborated with Quartz Matrix team and we managed to bring the working mode from the application as close as possible to the working mode from the section. KMR is a systematic and detailed software that allows us to
Read more
Comelf
Comelf
Chipita
Tehnoplus Medical Service
Considering that the main fields of activity are production, merchandising and service of medical equipment, we wanted to monitor and streamline the maintenance and service process
Read more
Arctic
Implementare sistem mentenanta KMR IoT
To maintain the quality standards and offer the best services to the clients, ETNIS company looked for solutions that would allow it to follow the state and the values, as well as the control of the parameters from the heating systems.
Read more
Logo
Comelf
Artiflex
By using KMR at Artifex, we have managed to achieve our aimed targets: a detailed register of all our equipment, a preventive maintenance plan and cutting maintenance costs.
Read more
Comelf
Measurement and monitoring of KPI
Efficient administration of maintenance management activity
Multiple work points setup
User access control: roles, rights, access areas
Nomenclatures: revision type, equipment and consumables categories, service providers, working procedures
Custom alerts and notifications setup
Import-export Excel data
Efficient management of technicians' activity
Work tasks assignment (tickets, requests)
Acces la resurse: manual de service, istoric interventii, situatii similare etc.
Real-time alerts, notifications, and information
Mobility - web interface (laptop, tablet, phone)
Reports on workloads assigned to technicians
Reports on materials (top costs or uses)
Reports on equipment (costs, overhauls, number of overhauls)
Reports on revisions and interventions (top costs, delayed or planned)
Necessary materials planning
Cost control
Stock control
Controlul stocurilor: alerta prag minim, evidenta stoc in multiple puncte de lucru
Cost control
Planificarea materialelor necesare in cadrul interventiilor
Necesar consumabile
IoT module - automatic retrieval of useful information for maintenance management from equipment / machinery
Timpul de functionare
Vibrations
Temperature
Level
Debitul
Concentratia
Configure the list of existing equipment in the factory with all the necessary information (technical specifications, images and technical documents)
Customize the maintenance plan
Add tickets / report problems to the maintenance team related to the operation of the machine
Access to the events and interventions history
Access to reports and statistics (KPIs) and to machine operators activity reports
View in real time of the working order of the equipment by viewing the values sent from the sensors
Validates the tickets that appear in the system, signaled by the machine operators, depending on their type: electrical, mechanical, technological failure, etc.
Monitor and complete the daily / periodic maintenance assigned to the machine
You always have the presentation of the maintenance management at a click
Smart Maintenance sau

KMR IoT
KMR Industrial IoT can automatically retrieve data from sensors and networked devices, this representing a new stage in the concept of automation. This system allows data collection, sharing in a central server and analysis of results to obtain specific reports on the necessary activities related to preventive and predictive maintenance.
More info about KMR IoT system
This contributes to:
Analysis of complex actions that have not been within eyeshot so far
Increasing efficiency and reaction time in production
Useful resource management
Increasing employee productivity due to obtaining information from several devices that communicate with each other and download their interconnected data in a central system
Improving the quality and quantity of data collected, as well as the reliability of assets and streamlining of maintenance resources
Display the collected data in an easy-to-read manner through dashboards and charts
Secure data sharing with key staff outside the organization. When the maintenance team and external technical experts have access to common data, they can solve problems faster and make changes to help reduce downtime
Useful information retrieved through

IoT
Equipment operating time
Contorizarea timpului de functionare al utilajelor/ echipamentelor ofera un control optim al uzurii generate in timp prin planificarea mentenantelor predictive si preventive in functie de indicatiile producatorului. Separa timpul de rulaj in gol al utilajului de cel de lucru, evidentiind informatii la secunda despre tipul (in cazul in care operatorul abuzeaza de masina) si timpul (masina a fost pornita 8 ore, dar a lucrat efectiv doua ore) de utilizare a utilajului.
Vibrations
Orice echipament ofera in prealabil anumite simptome inainte sa se defecteze, iar nivelul de vibratii este principalul parametru prin care se poate identifica gradul de uzura. Principalele tipuri de defecte ce pot fi depistate: dezechilibru al pieselor in rotatie; fixare slaba; defect rulment; dezaliniere; defect, uzura roti dintate; socuri, varfuri; lagar; cavitati, probleme de curgere la pompe.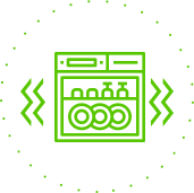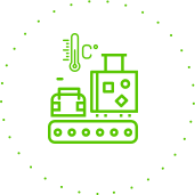 Temperature
Temperature is the parameter by which the quality of the oil in the installations, engine flaw, electrical panel flaw, etc. can be deduced. When temperature value goes out of the set tolerance range, it is sent an alert that allows the technician to prevent a serious malfunction.
Level
Monitoring level to detect fluid shortages or overflow will help prevent damage to gears, installations or inadequate set ups.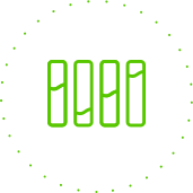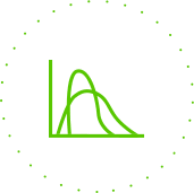 Pressure
Controlul corespunzator al presiunii va ajuta sa detectati in timp util pierderile pe traseu la instalatia de aer comprimat si, astfel, sa mentineti constanta performanta echipamentelor si sa evitati pierderi financiare (printr-un orificiu de 1 mm intr-o retea de aer comprimat cu presiunea de 7 bar, se poate ajunge la pierderi de peste 6 MWh/an).
Directii de business

adresate
Principalele

caracteristici
Planning, monitoring and effective deployment
Say goodbye to papers, cluttered files or maintenance and interventions files! Maintenance management is now extremely simple, fast and effective. You have access at any time to the information of interest, to be able to make quick decisions efficiently.
Preventive and predictive maintenance
Asigurati functionarea continua a echipamentelor si reduceti downtime-ul. Preveniti aparitia defectiunilor accidentale, reduceti uzura componentelor dinamice si statice. Reduceti costurile totale de mentenanta prin monitorizarea starii tehnice a echipamentelor si comportarii acestora in timp, in vederea stabilirii necesarului de lucrari de la prima reparatie planificata.
Aplicatia are capabilitatea de a va atentiona inainte ca un utilaj sa se defecteze. Totul se realizeaza prin integrarea tehnologiilor IoT ce preiau automat de la echipamente/ utilaje informatii utile despre starea de functionare a acestora.
You have an overview of the maintenance activity, as well as specific information to each action implemented or planned. You have full control over the whole activity (equipment, materials, people in charge) and over the costs involved.
Complete database with all the equipment subjected to maintenance / reparation. Add here all the equipment with the following details: name, inventory number, location, warranty period, commissioning date, operating meter, images, additional data of interest.
Overhaul / interventions management
Planning and maintenance / interventions management for each equipment: type of overhaul / maintenance, responsible technician / supplier, date, alert, status, diagnosis, tasks, used materials, associated documents, costs.
Real-time access to updated information about the materials needed for maintenance / repairs: name, manufacturer, existing stock, price. Material lists can be imported and exported from Excel files.
Reduceti timpul de raspuns prin alocarea sarcinilor de lucru catre tehnicieni (tichete/solicitari), evaluati personalul si intocmiti rapoarte de activitate. Distribuiti in mod echilibrat sarcinile si monitorizati eficient activitatile si productivitatea angajatilor.
Utilajele inregistrate in sistemul cronologistik sunt asociate unui cod QR unic, care odata scanat permite tehnicienilor logati in sistem sa inceapa rezolvarea tichetelor atribuite per fiecare utilaj. Astfel, este inregistrata activitatea angajatilor si statusul tichetelor.
Pe langa gestionarea tichetelor, simpla scanare a codului QR ofera angajatilor autorizati acces instant la informatii despre utilaj (specificatiile tehnice, istoricul mentenantei, ore de functionare, status revizie, manuale de utilizare si orice alt material necesar pentru desfasurarea activitatii).
Registry and activity history
Arhivati in aplicatie orice material pe care il considerati util pentru activitatea de mentenanta - manuale de utilizare a echipamentelor, manuale de service, procese verbale etc. Aveti acces rapid si facil la istoricul reviziilor si interventiilor pentru fiecare echipament. Astfel, va puteti stabili cu usurinta necesarul de materiale si lucrari in functie de situatiile de la reparatiile anterioare.
There can be generated 10 types of reports for:
materiale: top utilizari, top costuri, detalii utilizare material
echipamente: top numar revizii, top costuri revizii, detalii revizii echipament
revizii/interventii: top costuri, revizii/interventii intarziate, revizii ce urmeaza conform contorului de functionare, situatii similare
sarcini de lucru alocate tehnicienilor: tichete si solicitari, manuale de utilizare a echipamentelor, manuale de service, procese verbale, istoricul reviziilor si interventiilor pentru fiecare echipament
Perform analyses and make decisions based on specific reports generated from the application, extremely useful information for: management, economic department and maintenance department.
validati calitatea activitatilor de lucru; puteti detecta rapid echipamentele cu defectiuni frecvente, pot fi identificate actiuni abuzive sau irelevante, zonele ce dau cele mai bune rezultate si care sunt zonele in care se inregistreaza pierderi
gestionati inventarul si raportarea bugetului in functie de necesitati
puteti afla informatii legate de echipamentele mai eficiente sau mai slabe in functie de cele care produc cele mai multe cheltuieli de intretinere (top cheltuieli, top utilizari, top revizii etc.)
optimizati activitatea angajatilor si productia utilizand previzionate
analizati impactul masurilor implementate
dovediti eficienta in management si productie a companiei pentru atragerea de noi contracte
Sunteti informat in timp util cu privire la activitatea desfasurata. Interventii rapide pentru corectarea neregularitatilor. Aplicatia dispune de interfata web ce va permite accesul la informatii in permanenta de oriunde este internet, indiferent daca utilizati calculator, tableta sau telefon mobil.
E-mail and text message notifications and alerts
Simplificati procesul si cresteti rapiditatea efectuarii interventiilor de lucru. Aveti acces in timp real la informatii/decizii, aveti siguranta ca informatiile exacte si detaliate sunt transmise catre persoanele potrivite, la momentul potrivit.