Request

DEMO presentation
Please contact us.
For any questions, comments or clarifications, we are at your disposal
Keep the machine running

KMR
KMR is a system for optimizing and managing maintenance designed to plan and organize the flow of maintenance activities of machinery / equipment from a factory, company or office building.
It provides the responsible staff control over:
- Effective planning, monitoring and implementation of maintenance;
- Equipment, materials, activities and costs associated with maintenance;
- Real-time tracking of equipment information in IoT module: operating time, vibration, temperature, level, flow and concentration.
Corrective / accidental maintenance
Preventive / planned maintenance
Ticketing – work tasks assignment
Configurable roles and persmissions
IoT module – real-time monitoring
Spare parts and accessories management
Machinery and equipment management
Deployments of maintenance management system

Clients








OMV Petrom
Comelf
We permanently collaborated with Quartz Matrix team and we managed to bring the working mode from the application as close as possible to the working mode from the section. KMR is a systematic and detailed software that allows us to
Read more
Comelf
Comelf
Chipita
Tehnoplus Medical Service
Considering that the main fields of activity are production, merchandising and service of medical equipment, we wanted to monitor and streamline the maintenance and service process
Read more
Arctic
Implementare sistem mentenanta KMR IoT
To maintain the quality standards and offer the best services to the clients, ETNIS company looked for solutions that would allow it to follow the state and the values, as well as the control of the parameters from the heating systems.
Read more
Logo
Comelf
Artiflex
By using KMR at Artifex, we have managed to achieve our aimed targets: a detailed register of all our equipment, a preventive maintenance plan and cutting maintenance costs.
Read more
Comelf
Machinery maintenance system

KMR
- Configure multiple working points
- User access control: roles, rights, access areas
- Nomenclatures: type of overhauls, equipment and consumables categories, service providers, working procedures
- Configure custom alerts and notifications
- Import-export Excel data
- Full database
- Specifications and technical documentation
- Recording of operating hours
- Planning preventive & predictive maintenance activities
- Corrective maintenance
- QR Code scanning and labelling
- Mobility - web interface (laptop / tablet / phone)
- Planned interventions schedule
- Quick access: intervention history, technical specifications, service manual
- Monitoring operational parameters
- Alerts, real-time notifications
- Allocated tickets management
- Interventions: costs, planned and delayed activities
- Consumables: top costs, top uses, consumption evolution, planned vs. stock
- Equipment: intervention costs, intervention rate, operating time, sensor alarms
- Tickets: ticket status evidence and monitoring
- Inventory control: minimum threshold alert, stock records in multiple working points
- Cost control
- Planning the necessary materials for interventions
- Required consumables
IoT module - automatic retrieval of useful information for maintenance management from equipment / machinery
- Operating time
- Vibrations
- Temperature
- Level
- Flow
- Concentration
Configure the list of existing equipment in the factory with all the necessary information (technical specifications, images and technical documents)
Customize the maintenance plan
Add tickets / report problems to the maintenance team related to the operation of the machine
Access to the events and interventions history
Access to reports and statistics (KPIs) and to machine operators activity reports
View in real time of the working order of the equipment by viewing the values sent from the sensors
Validates the tickets that appear in the system, signaled by the machine operators, depending on their type: electrical, mechanical, technological failure, etc.
Monitor and complete the daily / periodic maintenance assigned to the machine
You always have the presentation of the maintenance management at a click
KMR Maintenance Management System by integrating IoT technologies provides a high level of visibility both for the production line and all other factory operations. It integrates most types of sensors and gives you real-time information retrieved automatically to facilitate the planning of preventive and predictive maintenance activities.
The integration of the IoT module contributes to the increase of production efficiency and employees' productivity and to an effective resource management.
More info about KMR IoT system
Useful information retrieved through

IoT
Equipment operating time
The metering of the operation time of the machinery / equipment offers an optimal control of the wear generated in time by planning the predictive and preventive maintenance according to the manufacturer's indications. It separates the idle running time of the machine from the working one, thus highlighting instant information about the type (if the operator abuses the machine) and the time (the machine has been running for 8 hours, but actually worked two hours) of machine use.
Vibrations
Any equipment shows certain symptoms before it breaks down and the vibration level is the main parameter for identifying the level of wear. The main types of flaws that can be detected: imbalance of rotating parts; weak fixation; bearing defect; misalignment; defect, worn gear; shocks, tips; bearing; cavities, pump flow problems.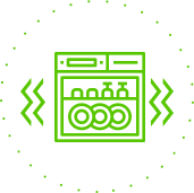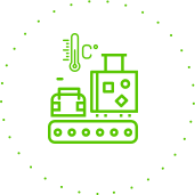 Temperature
Temperature is the parameter by which the quality of the oil in the installations, engine flaw, electrical panel flaw, etc. can be deduced. When temperature value goes out of the set tolerance range, it is sent an alert that allows the technician to prevent a serious malfunction.
Level
Monitoring level to detect fluid shortages or overflow will help prevent damage to gears, installations or inadequate set ups.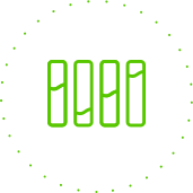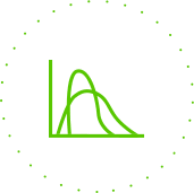 Pressure
Proper pressure control will help you detect in due time the losses on the lines at the compressed air installation and thus maintain constant performance of the equipment and avoid financial losses (through a 1mm hole in a 7 bar pressure compressed air network can be reached losses of over 6 MWh / year).
Addressed

Business directions
Planning, monitoring and effective deployment
Say goodbye to papers, cluttered files or maintenance and interventions files! Maintenance management is now extremely simple, fast and effective. You have access at any time to the information of interest, to be able to make quick decisions efficiently.
Preventive and predictive maintenance
Ensure continuous operation of equipment and reduce downtime. Prevent the occurrence of accidental malfunctions, reduce wear of dynamic and static components. Reduce maintenance costs by monitoring the technical condition of the equipment and their behavior over time, in order to establish the need for interventions from the first planned repair.
The application can warn you before a machine breaks down. Everything is achieved by integrating IoT technologies that automatically retrieve from equipment / machinery useful information about their operating status.
You have an overview of the maintenance activity, as well as specific information to each action implemented or planned. You have full control over the whole activity (equipment, materials, people in charge) and over the costs involved.
Complete database with all the equipment subjected to maintenance / reparation. Add here all the equipment with the following details: name, inventory number, location, warranty period, commissioning date, operating meter, images, additional data of interest.
Overhaul / interventions management
Planning and maintenance / interventions management for each equipment: type of overhaul / maintenance, responsible technician / supplier, date, alert, status, diagnosis, tasks, used materials, associated documents, costs.
Real-time access to updated information about the materials needed for maintenance / repairs: name, manufacturer, existing stock, price. Material lists can be imported and exported from Excel files.
Reduce response time by assigning tasks to technicians (tickets / requests), evaluate staff and prepare activity reports. Distribute tasks evenly and effectively monitor employee activities and productivity.
Utilajele inregistrate in sistemul KMR sunt asociate unui QR Code unic care odata scanat permite tehnicienilor logati in sistem sa inceapa rezolvarea tichetelor atribuite per fiecare utilaj. Astfel este inregistrata activitatea angajatilor si statusul tichetelor.
In addition to managing the tickets, the simple scanning of the QR Code gives authorized employees instant access to information about the machine (technical specifications, maintenance history, operating hours, overhaul status, user manuals and any other material necessary to carry out the activity).
Registry and activity history
Archive in the application any material that you consider useful for the maintenance activity - equipment user manuals, service manuals, minutes, etc. You have quick and easy access to overhauls and interventions history for each piece of equipment. You can easily establish the necessary materials and works depending on the situations from previous repairs.
There can be generated 10 types of reports for:
- materials: top uses, top costs, material usage details
- equipment: top overhauls number, top overhaul costs, equipment overhaul details
- overhauls / interventions: top costs, delayed overhauls / interventions, next overhauls according to the operation meter, similar situations
- work tasks assigned to technicians: tickets and requests, equipment user manuals, service manuals, minutes, history of overhauls and interventions for each equipment.
Perform analyses and make decisions based on specific reports generated from the application, extremely useful information for: management, economic department and maintenance department.
- Validate the quality of work activities. You can quickly detect equipment with frequent malfunctions, identify abusive or irrelevant actions and the areas that give the best results and areas of loss
- Manage inventory and budget reporting as needed
- You can find information about the most effective or weakest equipment depending on the ones that require the higher maintenance costs (top expenses, top uses, top overhauls, etc.)
- Optimize employees activity and production using forecasts
- Analyze the impact of the implemented measures
- Prove management and production efficiency in the of the company for attracting new contracts
Always informed in due time about the activity carried out. Rapid interventions to correct irregularities. The application has a web interface that allows you to permanently access information if there is Internet connection, whether you use a computer, tablet or mobile phone.
E-mail and text message notifications and alerts
Simplify the process and increase promptitude of intervention operations. You have real-time access to information / decisions, you are certain that accurate information is sent to the right persons, at the right times.