Please contact us.
For any questions, comments or clarifications, we are at your disposal
Preliminary audit – we identify the necessities on-site
Senys department is ready to offer turnkey solutions for projects with low noise generating sets special control panels, but also alternative solutions to meet any type of requirements from our customers.
Advantages of three-phase generating sets
Continuityin power supply
Avoidingproduction interruption and losses caused by it
Unlimited practical autonomy
Total energy independence
Installation without the presence of the network line
Significant savings as the equipment generates costs only during use
Addressed

Business directions
Industry
locations with uninterrupted production, construction works, to supply vital consumers (water pumps for fire extinguishing systems, chillers, safety lighting, alarm and video surveillance systems, production lines with critical applications)
Hard to access areas
where there is no electricity network or its setup involves high costs
Special buildings
hospitals, banks, stores, e-commerce, company headquarters, airports
IT
data rooms and data center for uninterrupted running
Implementation of generators

References





Quartz Matrix offers you support in choosing and deployment of generating sets
Measurements of electricity parameters
Sizing based on the calculation of the required power
Design of the electrical installation according to the solution (sizing of the cable network, of the protection equipment, of the automatic reserve triggering equipment - AAR)
Implementation by qualified and certified staff
Commissioning by following the procedures established by the manufacturer
Quartz Matrix is ​​an authorized partner for the sale, commissioning, service of PRAMAC generators
Three-phase generating sets

Physical structure
1 - Open
for indoor installation
2 - Enclosed
weather resistant
3 - Soundproof
in a container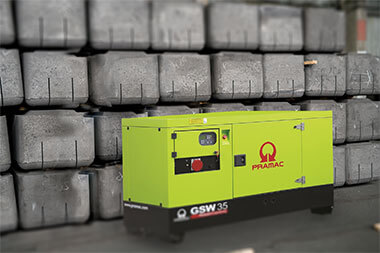 The certifications according to the legislation in force corroborated with the experience and competence of Senys department come in supporting you with high performance equipment from our partner, PRAMAC. Through this collaboration we offer generators with a usual range of up to 1 MWe and for special projects this range of generators can be extended up to 3 MWe, with low or medium voltage outputs, suitable for multiple applications. The manufacturer guarantees the operation of the three-phase generating sets up to 24 months from the date of installation, which offers the investment guarantee and the protection of the equipment you use.
Range of products that meets the needs of power and versatility, regardless of the field of activity
Our specialists can deliver and install the generator in any area of the country
Training the beneficiary's staff in using the equipment