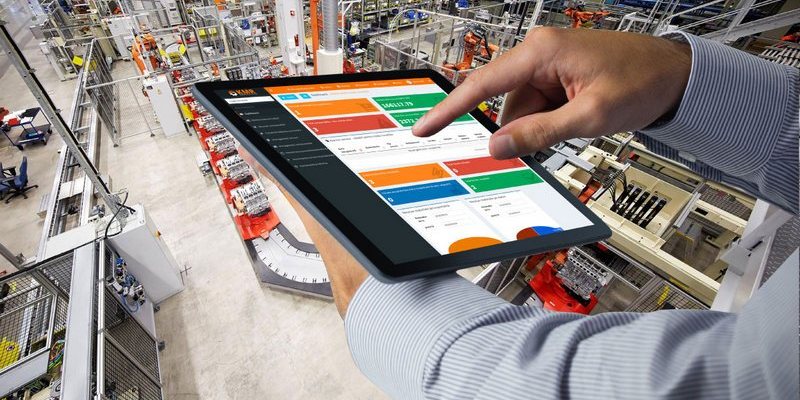 Într-un cadru expozițional, la International Electric & Automation Show 2018 (IEAS), Quartz Matrix va aduce soluții inovative în domenii de tehnologie avansată, energie și automatizări, prezentând aplicabilitatea acestora într-un cadru de testare live.
18-20 septembrie – Palatul Parlamentului – București
DEMO LIVE
Sistem managementul mentenanței (KMR) & Sistem monitorizare consumuri energetice (e-Net)
Discuții față în față cu reprezentanții
Quartz Matrix, Cisco & Kontron
Compania Quartz Matrix lansează ideea unei prezentări integrative în cadrul evenimentului IEAS, prin care să evidențieze aplicabilitatea sistemelor IoT în mediul industrial. În acest an, la standul Quartz Matrix se vor face demonstrații live care să ofere clienților o garanție a aplicabilității soluțiilor propuse. Standul pentru demonstrația live înglobează multe din cerințele actuale de pe piață, precum monitorizarea și achiziția de date despre consumul de energie, vibrații sau temperatură. Informațiile pot fi afișate atât local, cât și transmise la distanță.
---
Cum eficientizează IIoT-ul (Industrial Internet of Things) activitatea de producție și de mentenanță?
Vizitatorii standului Quartz Matrix vor înțelege mai bine, direct de la sursă, modul în care își găsesc aplicabilitatea în activitatea de producție și de mentenanță cele două soluții: sistemul pentru managementul mentenanței (KMR) și sistemul pentru monitorizare consumuri energetice (e-Net).
Standul demonstrativ integrează echipamente ce preiau automat informații utile, precum timpul de funcționare, vibrațiile sau temperatura, care apoi sunt folosite în sistemul KMR la mentenanța preventivă, predictivă și corectivă. De asemenea, sistemul pentru managementul mentenanței KMR (Keep the Machine Running) oferă un nivel de vizibilitate fără precedent atât pentru linia de producție, cât și pentru toate celelalte operațiuni din fabrică. În acest fel, se beneficiază nu numai de colectarea și analiza datelor de la dispozitive utilizând o interfață unică, ci și de generarea instantă de rapoarte inteligente la nivel de fabrică.
Sistemul e-Net este un instrument esențial pentru monitorizare în timp real a consumului de energie electrică și asigură un management energetic de performanță. e-Net ajută la evaluarea eficienței energetice a tehnologiilor din companie, urmărirea evoluției parametrilor energetici, a duratei de funcționare și anomaliilor în regimul de funcționare.
---
Demonstrație de monitorizare în timp real
Monitorizarea consumului de energie la standul demo se face prin
achiziția de date de la:
Convertizorul G120
Modulele adiționale montate pe PLC-ul 1214C
Modulele adiționale montate pe nodul ET200SP
*Măsurarea va fi făcută direct de modulele adiționale.
Monitorizarea vibrațiilor va fi efectuată de un modul VSE prin conexiunea cu senzorul de vibrații și senzorul de proximitate (care să indice turația motorului). Modulul va fi conectat cu PLC-ul și va transmite datele în timp real.
Monitorizarea temperaturii se face prin conectarea directă a senzorului de temperatură la PLC, folosind comunicația Hart 4-20mA. Sistemul RFID va citi tagurile montate pe paleta motorului și va transmite informațiile în PLC-ul 1512C. Afișarea locală a parametrilor de funcționare va fi făcută de panoul HMI KTP700. Achiziția de date va fi făcută de dispozitivul IOT 2040, care va transmite pachetele de date în aplicația KMR, atât în cloud, cât și local.
---
Prezentare video sistem managementul mentenanței KMR
---
Prezentare video sistem monitorizare consumuri energetice e-Net
---
Vizitați standul Quartz Matrix la IEAS pentru a vedea cum un sistem pentru managementul mentenanței integrat cu senzori vă ajută să obțineți performanță în managementul mentenanței, cum puteți obține eficiență energetică prin utilizarea unui sistem de monitorizare a consumurilor energetice, cum calculatoarele și dispozitivele industriale Kontron se ocupă de procesele de producție și vă ajută să le controlați, cum toate datele companiei și cele de producție sunt sigure în era atacurilor cibernetice, protejate de liderul mondial Cisco în securitate cibernetică pentru industrie.
---
IEAS – PALATUL PARLAMENTULUI, BUCUREȘTI
18-20 septembrie 2018
VIZITAȚI STANDUL QUARTZ MATRIX – A16, Sala Unirii, pentru a descoperi:
Sistemul IoT pentru managementul mentenanței KMR
Sistemul de monitorizate consumuri energetice e-Net
Tehnologii embedded de la Kontron pentru IoT și Industry 4.0
Comunicații industriale și securitate cibernetică de la Cisco
ÎNREGISTRAȚI-VĂ PARTICIPAREA LA EVENIMENT AICI